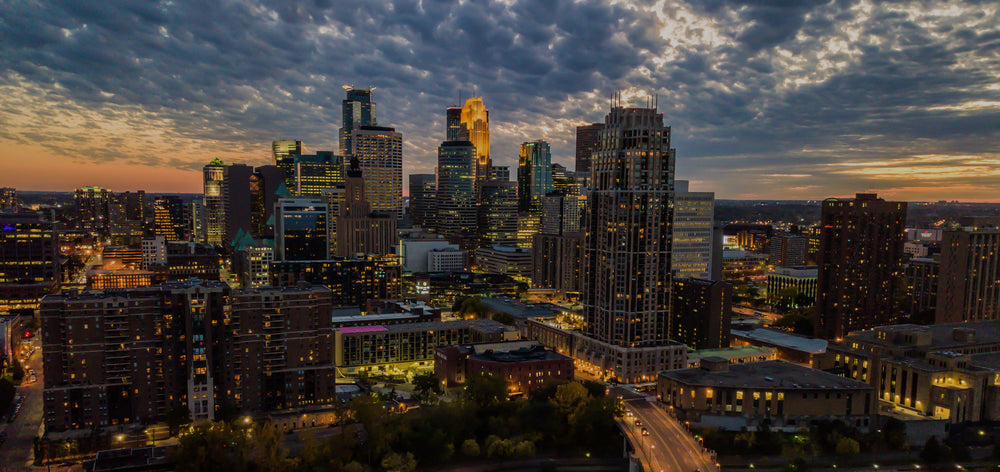 Industrial Air Compressor Services in Minneapolis & Saint Paul, MN
Welcome to Fluid-Aire Dynamics, the leading provider of industrial air compressor services in Minneapolis, MN. Our expert team is dedicated to addressing all your air compressor needs, ensuring exceptional service and reliability. Whether you need maintenance, repairs, or new air compressor installations, we have you covered. As industry veterans in the compressed air system field, we pride ourselves on delivering customized, cost-effective solutions to meet your business's specific requirements. Let us help keep your operations running efficiently with our comprehensive range of services.
2,906
Total Active Customers
8,004
Service Calls Annually
387
Systems Installed Annually
1h 24m
Average Emergency Response Time
4.5
Star Google Rating
4.5
Minneapolis Air Compressor Service Center Near You
Comprehensive Solutions for All Types of Industrial Air Compressors and Related Accessories in Minneapolis & Saint Paul
At Fluid-Aire Dynamics, we're committed to providing a wide range of services for various types of industrial air compressors and related accessories in Minneapolis. Our skilled technicians possess the expertise to work with an array of compressor models, ensuring your equipment operates effectively and efficiently. From reciprocating compressors to large rotary and oil-free air compressors, piping systems, air dryers and filtration systems, we have the solutions you need. Our dedication to excellence and adaptability in the compressed air industry sets us apart, as we strive to meet the diverse needs of our Minneapolis clientele. Trust us for all your air compressor service requirements.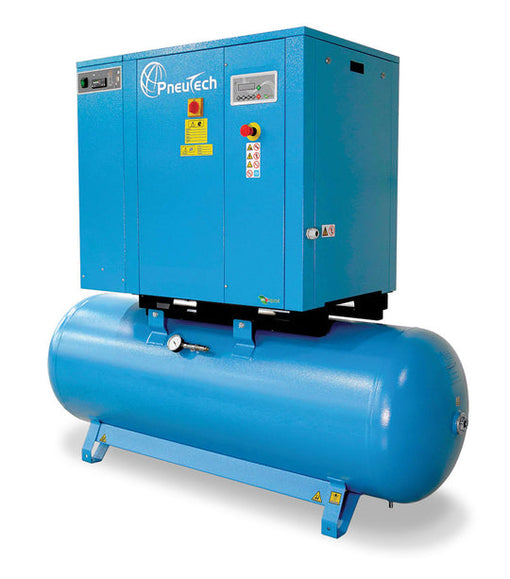 Rotary screw air compressors (oil-flooded and oil-free)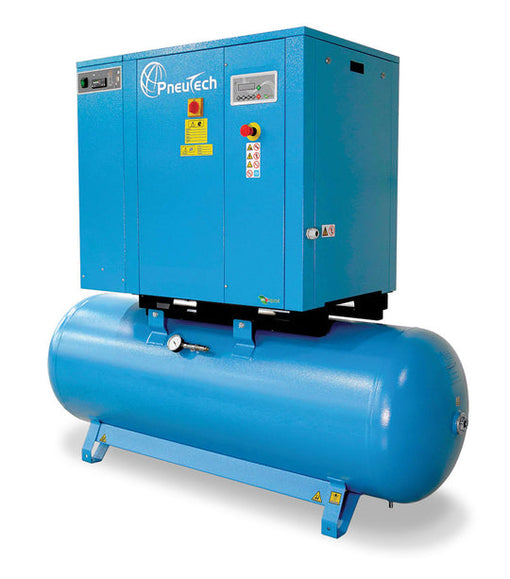 Rotary vane air compressors

Variable speed drive (VSD) air compressors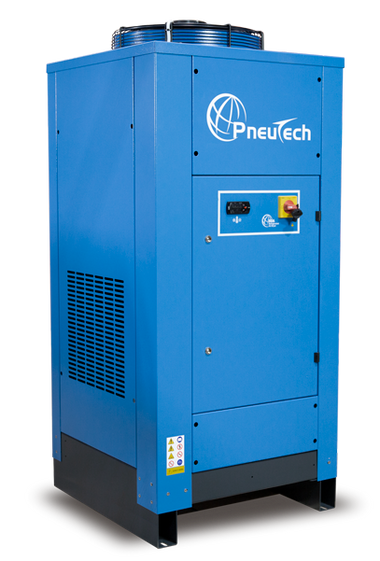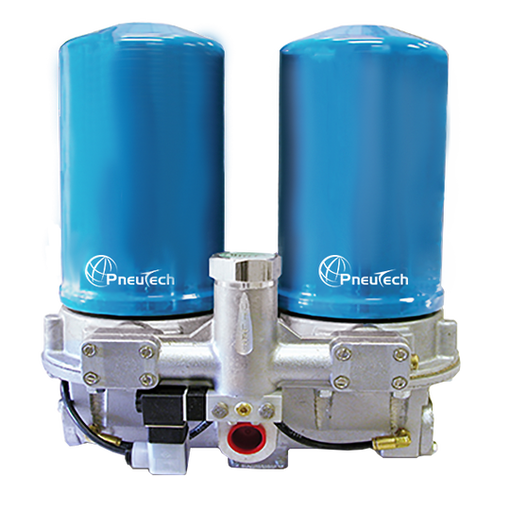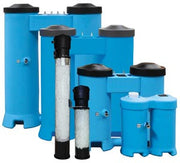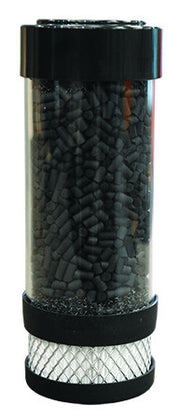 Compressed air inline filtration


Compressed air drains (electric, zero-loss)

Leak repair for compressed air systems
Minneapolis Compressed Air Service Center: Comprehensive Services
Discover comprehensive compressed air services at our Minneapolis compressed air service center, where we offer an extensive range of solutions designed to keep your operations running seamlessly. Our proficient technicians are adept at handling various tasks, from air compressor repair and maintenance to system design and installation. Regular servicing ensures the optimal performance and longevity of your compressed air equipment. We also provide energy efficiency audits and emergency services, meeting all your compressed air system needs in Minneapolis. Fluid-Aire Dynamics delivers personalized solutions with unparalleled expertise.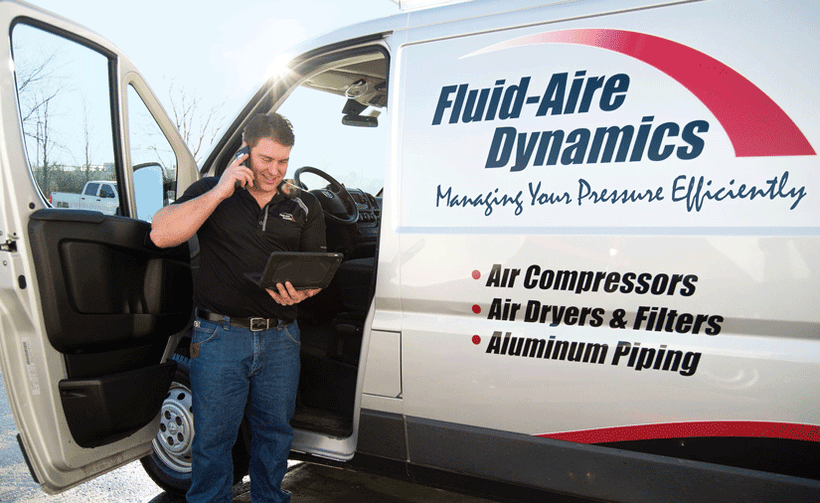 Air Compressor Service and Repair in Minneapolis
Don't let compressor breakdowns disrupt your business. Our 24-hour emergency service ensures prompt assistance anytime, day or night. Rely on Fluid-Aire Dynamics to keep your operations running smoothly.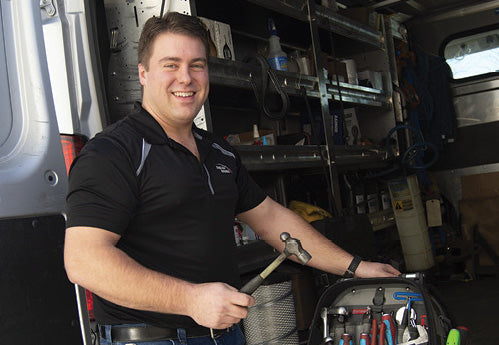 Fluid-Aire Dynamics offers reliable air compressor repair services in Minneapolis, handled by our skilled technicians. Count on us to get your equipment back in operation swiftly.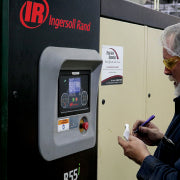 Optimize your compressed air system with our complimentary assessment. We'll analyze equipment performance, air demands, and maintenance procedures to identify potential cost savings.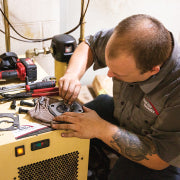 Maximize your system's energy efficiency with our comprehensive audit. We'll help you uncover hidden inefficiencies, ensuring your compressed air equipment performs at its best.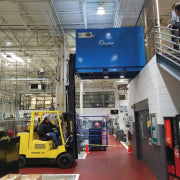 Looking for a temporary solution? Fluid-Aire Dynamics provides air compressor rentals to keep your business operational during repairs or short-term needs, along with air compressor sales and top-quality replacement parts. Contact us to arrange your rental today.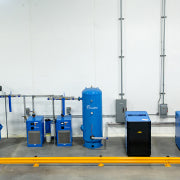 Invest in peace of mind with our Extend-AireSM warranty program. Protect your oil-flooded rotary screw and rotary vane compressors with coverage for up to 80,000 hours or 20 years.
When it comes to air compressor service and repair in Minneapolis, Fluid-Aire Dynamics is your trusted partner. Our experienced technicians are equipped to handle a wide range of compressor issues, providing timely and efficient solutions to minimize downtime. With our 24/7 emergency service, you can rely on us to address any unexpected breakdowns and get your equipment back up and running promptly. Choose Fluid-Aire Dynamics for exceptional air compressor repair services that cater to your unique business needs.
Air Compressor Planned Maintenance in Minneapolis
Achieve peak performance with our air compressor planned maintenance services in Minneapolis. Fluid-Aire Dynamics is committed to ensuring your compressed air system operates efficiently through regular checkups and timely interventions. Our team is ready to serve, tackling challenges and providing lubrication solutions upon request. Trust our expertise to minimize downtime, supply replacement air compressor parts, and keep your business running smoothly.
Choose a service plan to maximize uptime!
Contact Us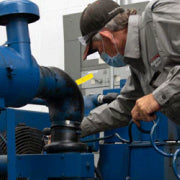 Experience hassle-free maintenance with our Preventive Maintenance Plans in Minneapolis. For a fixed price, enjoy scheduled upkeep tailored to your needs. Opt for our Standard Maintenance Agreement for routine compressor care or select our Elite Service Subscription for comprehensive service and repair coverage at a consistent monthly rate.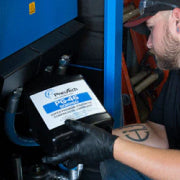 Stay on top of your maintenance schedule with our convenient Maintenance Reminder service. Sign up for FREE alerts, ensuring timely checkups for your compressed air system and preventing unexpected downtime.
Compressed Air System Design and Installation in Minneapolis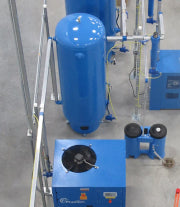 Partner with Fluid-Aire Dynamics for expert guidance on designing and engineering your Minneapolis compressed air system. We help you optimize equipment selection and air compressor line design for maximum efficiency.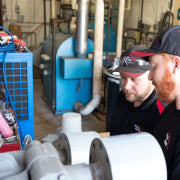 Our skilled installers deliver professional air compressor installation services in Minneapolis. Trust us to handle your new compressor project from equipment placement to piping, on budget and on time.
For top-notch compressed air system design and compressed air installation in Minneapolis, look no further than Fluid-Aire Dynamics. Our experienced engineers work closely with you to create tailored solutions, ensuring your system operates at peak efficiency. Trust our team to bring your project to life, on time and within budget.
I need new compressed air system design and engineering. 
Contact Us
Air Compressor Brands We Service and Repair in Minneapolis And Throughout Minnesota
At Fluid-Aire Dynamics, we service and repair a wide range of air compressor brands in Minneapolis and throughout Minnesota. Our expertise covers leading brands such as Atlas Copco, Chicago Pneumatic, Gardner-Denver, Ingersoll-Rand, Kaeser, PneuTech, Quincy, Sullair, and Sullivan Palatek, among others. Our focus is on industrial and commercial air compressors; for consumer air compressor repairs, we recommend contacting the retailer where you purchased your equipment. Trust our skilled technicians to handle all your compressed air equipment needs.
Choose Fluid-Aire Dynamics for reliable, efficient, and affordable air compressor servicing in Twin Cities Area.
Fluid-Aire Dynamics is your trusted partner for air compressor services, repairs, and maintenance in Minnesota state, offering system design, engineering, and emergency repair solutions. With over 40 years of experience, our team of professional, factory-trained technicians is committed to delivering rapid response and exceptional customer service 24/7, 365 days a year.
Highly qualified, factory-trained service technicians
Outstanding customer support provided by our 70+ knowledgeable professionals
24/7/365 phone support complemented by our 4-Hour Emergency Response Guarantee
Quick access to replacement parts through strong relationships with nationwide equipment vendors
Competitive air compressor repair pricing
Comprehensive compressed air system repair capabilities, covering dryers, distribution systems, inline filtration, air receiver tanks, and air system accessories
Customized maintenance plans tailored to your specific needs and budget
Free compressed air system basic assessment to optimize your system and identify potential cost savings
Nationwide service network to support your business wherever it operates
Exclusive Extend-AireSM warranty program providing up to 80,000 hours or 20 years of coverage for oil-flooded rotary screw and rotary vane compressors
Energy efficiency audits to help you uncover hidden inefficiencies and maximize your system's performance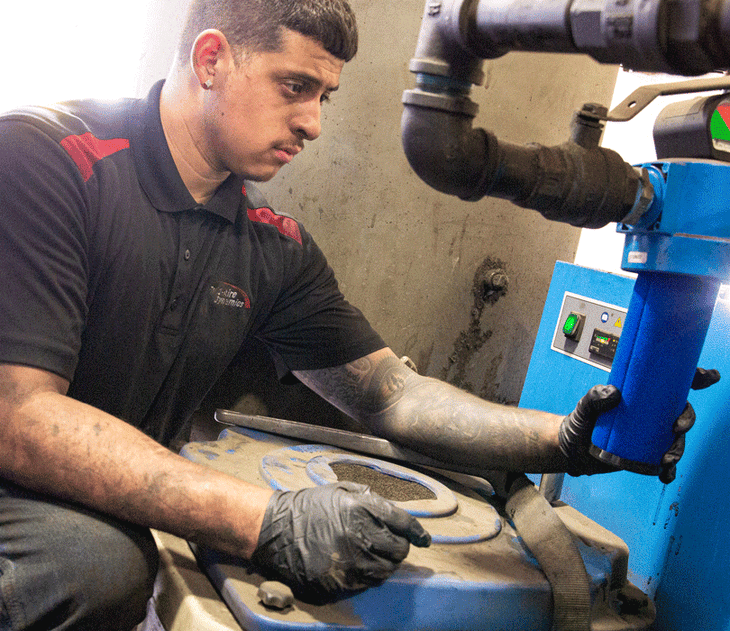 Our Chicago Clients' Reviews
Your team has been absolute experts with design and install, I can't say enough good things about Jayden and Trevor
Philip Underdahl
Bemidji Steel Co., Inc.
My old compressor broke and I had a replacement part installed and back up and running in 2 days. Dale is one of the best service technicians I have worked with. Would highly recommend to anyone in need of compressed air solutions
Rick Edwards
Dickinson Manufacturing Solutions LLC
I have been working with Fluid air dynamics for the last 20 years at Boston Scientific and they have always been right there when we needed them
Hunter Moss
Boston Scientific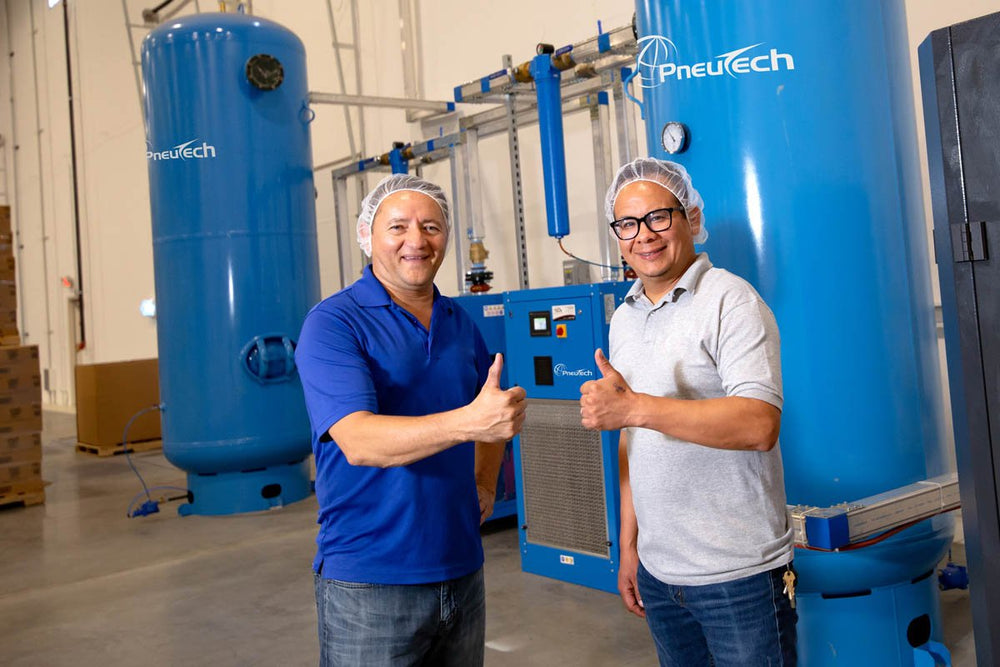 Contact Us Today for Your Minneapolis Air Compressor Service Needs
If you're in need of air compressor services in Minneapolis or the surrounding areas, Fluid-Aire Dynamics is the go-to choice. Contact us today to discuss your needs or request a free compressed air system basic assessment. Our team of experts is ready to help you optimize your air compressor system, ensuring your business operates smoothly and efficiently.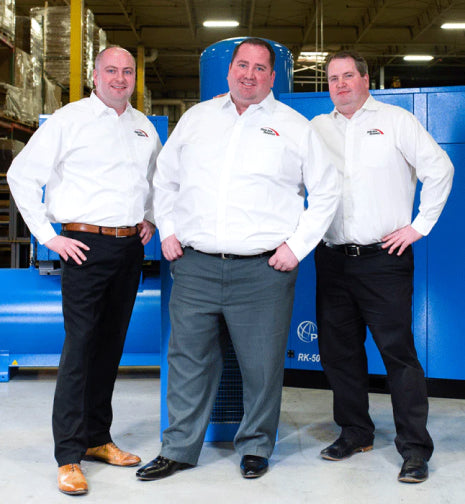 Our Air Compressor Service Centers In Other USA Locations