Rent An Air Compressor
Air Compressors Rentals: Rent the Right Equipment
Air Equipment Rentals Near You
Need to rent industrial compressed air equipment near Chicago, Milwaukee, Minneapolis, Philadelphia, Detroit, or San Antonio? We are your air compressor rental solution! We deliver the right equipment directly to your job site, right when you need it. We offer a variety of models of rotary screw compressors and reciprocating compressors from 5HP to 75 HP and beyond, along with air dryers and other supporting equipment.
• Fast end-to-end service
• Extensive equipment catalog
• Competitive pricing
• 24/7 emergency support 
• Flexible weekly or monthly terms 
We Make Renting Easy! Contact us to set up your rental today.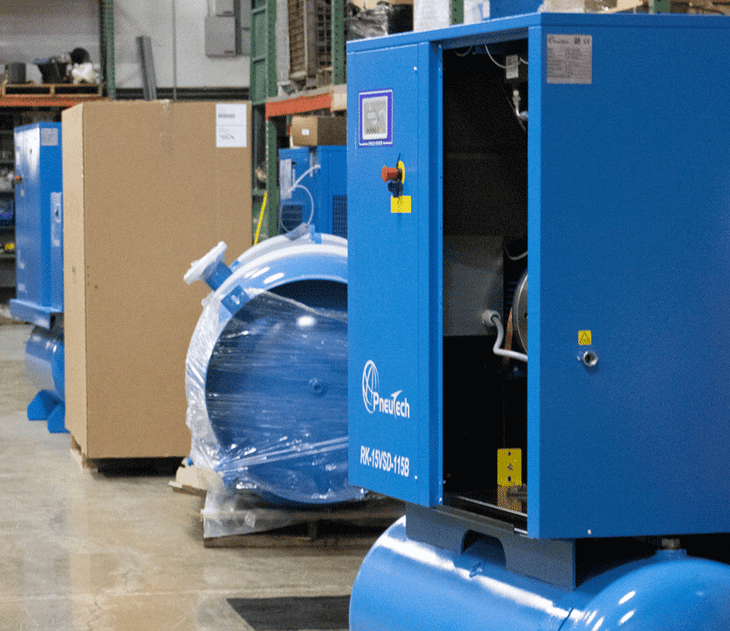 How Our Rental Process Works
We maintain a large fleet of air compressors for rent to keep your operations running, whether you are waiting for new equipment or repair of your existing system. Our qualified installers will take care of everything, including a complete equipment transfer, to minimize downtime. 
We rent air compressors, dryers, and other supporting compressed air equipment on a weekly or monthly basis with flexible terms.
Your professional installers will take care of transport and get everything up and running, including electrical wiring, connection to your compressed air piping, and system configuration.
When the rental is no longer needed, we remove the unit and hook you back up to your original unit.
We make the process as painless and simple as possible, so you can stay focused on your business.
We'll need to know:
What is the physical location where the equipment will operate? Will it be an indoor installation?
What is the air demand at your facility? What CFM and pressure do you need to maintain to run your air tools and applications?
Do you need an air dryer or other supporting equipment?
In there a forklift available at the job site?
What electrical voltage is available at your location?
How long will you need the rental equipment?
What are your hours of operations? How many hours/shifts will the compressor run each week?
Why Choose Us: Industrial Air Compressor Rentals You Can Trust!
We are the industry leaders in air compressor rental! Count on our rental team for:
Fast service: In most cases, we can have a compressor on-site and in operation the next business day to minimize your downtime.
Extensive equipment catalog: We rent high-quality, durable air compressors in sizes from 5HP – 75HP or larger, along with refrigerated air dryers and other essential compressed air equipment.
White-glove service: We do it all, from install to removal, so you don't have to worry about a thing.
Exceptional support: Our service teams are compressed air experts. We provide 24/7 emergency support for our equipment so you can rest easy.
Contact us to get started with your compressed air equipment rental.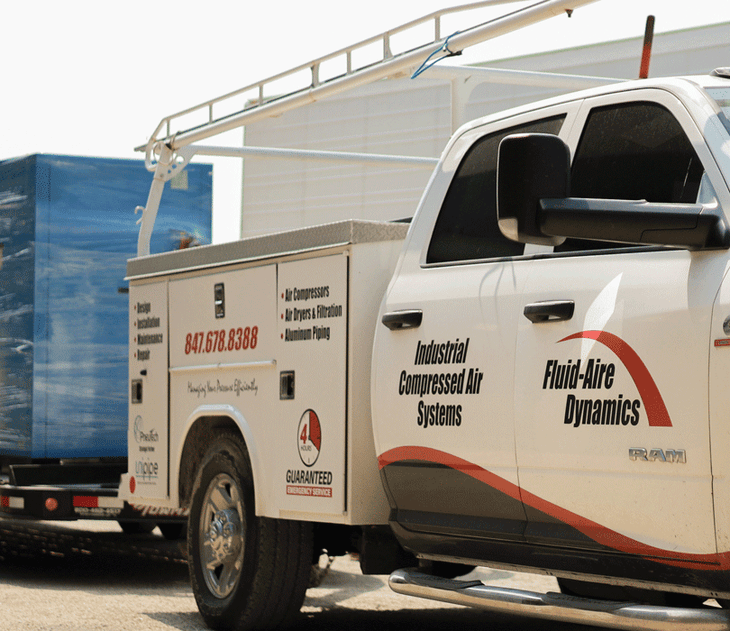 Quote for a Rental
Fill in the form with your details, and we'll help you find the ideal rental solution for your compressed air needs.
FAQ
How much does renting an industrial air compressor cost?
Rental prices for air compressors depend on the HP of the unit and the length of time you need to rent. Our quotes include all associated costs, including travel and setup time, unit rental, dismantle and carry-away, and even reconnection of your permanent air compressor, so there are no surprises in the final bill. Contact us for a quote and ask us about special pricing for long-term compressed air equipment rentals. It's probably not as expensive as you think!
How big of an air compressor do I need?
We offer rotary screw compressors and reciprocating compressors for rent from 5HP to 75HP and above to meet your airflow (CFM) and pressure needs. We can recommend a model based on your applications and circumstances. If you are renting an air compressor to stand in for an existing unit, we can bring in a compressor with comparable HP and CFM to keep you at full capacity or recommend a smaller unit to handle mission-critical applications only. Talk to a compressed air expert to discuss your air needs.
Can your air compressor experts help me to choose an air compressor for my business?
Yes! If you're not sure what you need, we'll be happy to evaluate your current processes and air demand and recommend an air compressor for rent that will meet your requirements. Talk to one of our compressed air experts about your rental needs today.
Is maintenance included in the rental agreement?
Maintenance is not included in our standard short-term rental agreement. Your compressor will show up at your job site ready to perform and optimized for reliability. If you require maintenance as part of a long-term rental agreement, we can build that into the contract. Ask us about our preventative maintenance solutions.
Is it possible to extend the rental period if needed, and how does this affect the cost?
We get it...circumstances change! If you need to keep your compressor a little longer, we will do our best to make it happen. As long as the compressor has not been promised to another customer, we should be able to extend the contract under similar terms and costs. Talk to your representative as soon as possible to make sure we are able to accommodate your needs.
What is the process for transporting the rental equipment to and from my location?
Don't worry! We'll take care of all transport and make sure your equipment is installed correctly and safely. All you have to do is let us know what you need, and we'll make it happen.