Air Compressor Maintenance Reminder Service
Stay on top of compressed air system maintenance requirements and avoid costly downtime with our free Maintenance Reminder Service. It's easy: once we establish your account and document your compressed air equipment, we simply remind you when normal maintenance is due. We help you do compressed air right!
How It Works
Enrolling in our Maintenance Reminder Service is easy–and free! Just contact your Fluid-Aire Dynamics representative to get started.
When you sign up, we document the make, model number, serial number, and hours on your air compressors and dryers. We also note the total system horsepower and current PM schedule.
From there, we'll help you establish an optimal maintenance schedule for your compressor system. 
When maintenance is due for your compressor or dryers, we'll send a friendly email reminder to the contact of your choice.
Call us anytime for troubleshooting, repairs, parts or supplies. For major issues or emergency down situations, a call to our emergency response hotline will have a qualified and knowledgeable service technician onsite right away.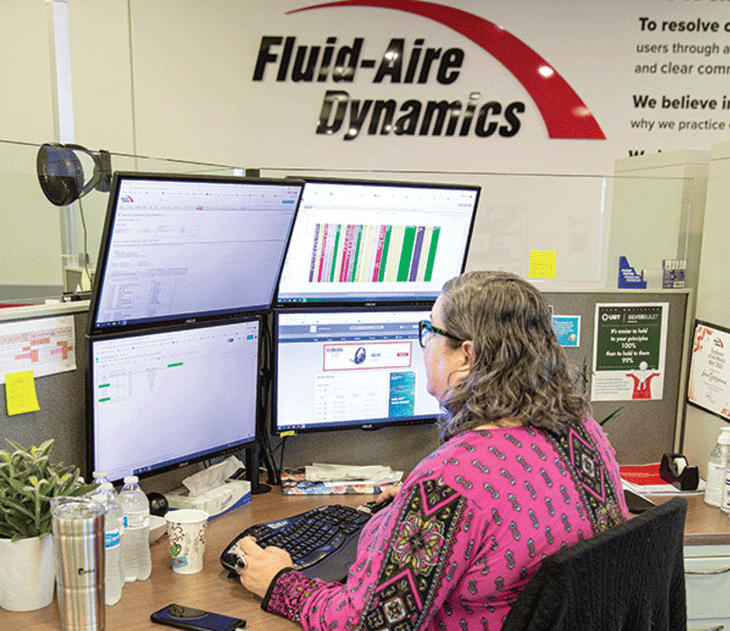 Brands We Serve
With over 30 factory-trained service technicians, we have deep experience in air compressor maintenance, service, and repair for almost any brand of rotary screw or hydrovane-style air compressor, including: Atlas Copco, Champion, Chicago Pneumatic, Curtis Toledo, Elgi, Gardner-Denver, Hydrovane, Ingersoll-Rand, Kaeser, Kaishan, Mattei, Pneu Tech, Quincy, Saylor Beall, Sullair, Sullivan Palatek, and many, many others.
We specialize in stationary, electric, industrial air compressor maintenance, service and repair. If you're looking for service on consumer-level air compressors, we recommend that you contact the original manufacturer or retailer to find a local repair shop.
Why You Should Use Our Reminder Program for Preventative Maintenance for Your Air Compressor
Avoid the hidden costs of poor air compressor maintenance. A poorly maintained air compressor will end up costing your company money, both directly and indirectly:
Higher energy costs due to overloaded filters, high pressure drop, blockages, inadequate lubrication, and other problems that cause your air compressor to work harder than it should have to.
Shorter equipment life caused by increased wear and tear on moving parts.
More frequent emergency repairs, which will almost always be much more expensive than the preventative maintenance would have been.
Increased risk of unexpected downtime, which can lead to thousands or tens of thousands of dollars in losses.
Buildup of fluids and particulates in the compressor that can contaminate the airstream and cause problems for many production processes.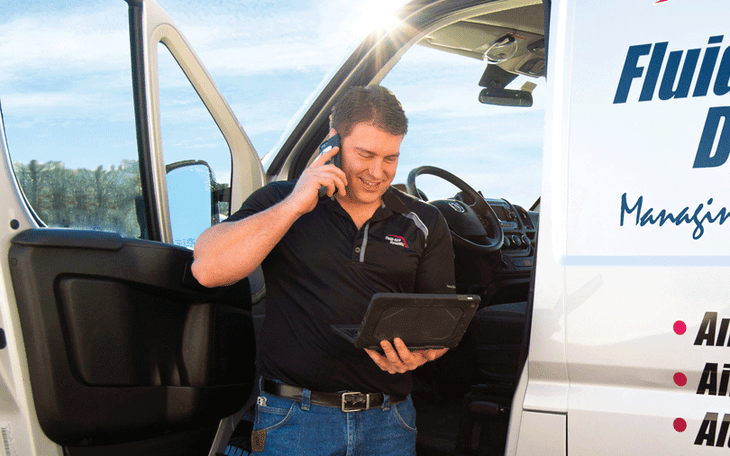 Request Your Professional Air Compressor Repair Service Today!
Contact us
FAQ
Is your reminder service completely free?
Yes, our air compressor maintenance reminder services are always 100% free! We provide maintenance reminders as a free service to our current customers, contacts and potential future customers. You do not need to be a current Fluid-Aire Dynamics customer to sign up for reminders. It doesn't matter what brand of compressed air equipment you have, where you bought it, or how old it is. Whatever type of air compressor and dryers you have, we'll help you set up a maintenance schedule to keep your system in top condition.
Is regular maintenance on my air compressor really necessary?
Regular preventative maintenance is absolutely essential for safe, efficient operation of industrial air compressors and other compressed air equipment. A rotary screw, rotary vane or reciprocating compressor is a complex piece of machinery that requires regular maintenance to stay in operating condition and prevent potential problems. Without air compressor maintenance, your machine will have a shorter service life and be at risk for unplanned outages which can cause serious disruption to your operations. Companies can save money with regular preventative maintenance on their compressed air systems and ensure they get the greatest value out of their equipment.
How much does preventative maintenance on an air compressor cost?
The cost for maintenance will vary depending on the make and model of the machine and the range of services provided. For an industrial rotary screw or rotary vane style compressor, you can expect PM service provided by a factory trained professional to take between 2-3 hours and can cost on average between $1000 - $2800. Pricing may differ depending on the horsepower and location of the compressor. You will also need to factor in the cost of consumables, such as filters and lubricants, and any replacement parts, such as belts. Note that preventative maintenance is much cheaper than emergency service and unexpected downtime. Staying up on compressor maintenance will save money in the long run.
What is the typical service interval for an industrial air compressor?
Basic preventative maintenance services should be completed every 1,000 -2,000 operating hours, depending on operating conditions, or every 3-6 months. A full maintenance service should be completed at least annually or after 4,000 operating hours. We will help you determine the appropriate service interval based on your compressor make and model and operating conditions to keep your machine in peak condition for the long run.
What is included in a preventative maintenance service for an industrial air compressor?
Maintenance activities will depend on the make and model of your equipment; always follow the guidelines in your user manual. A typical annual PM service for a rotary screw compressor will include activities such as changing the oil and oil filter, cleaning the intake and replacing the intake filter, checking or replacing the air/oil separator, checking and tightening belts and fasteners, and servicing the motor. It should also include inspection of drain valves, gauges, shut off systems and controls, safety mechanisms, coolers, and other components. Fluid-Aire Dynamics uses a 45-point checklist for inspection and maintenance of compressed air equipment.
Can Fluid-Aire Dynamics help me maintain my compressed air equipment?
Certainly! We offer Standard and Elite Maintenance Agreements to help you keep your equipment in top condition. Our factory-trained, knowledgeable technicians service all major brands of commercial air compressors and dryers. We inspect your equipment, perform all recommended PM, and complete any required repairs.