Compressed Air System Design Services
At Fluid-Aire Dynamics, we are the experts in compressed air system design in Chicago, Milwaukee, Minneapolis, Detroit, Philadelphia and San Antonio. We design systems that are cost-efficient, reliable, and guaranteed to meet your demand for air 24/7/365. Not only do we offer expert system design and engineering skills, but we sell and service the equipment that we propose for your project.
How We Can Help with Air Compressor System Design
Modern compressed air systems are complex and delicate constructions that consume huge amounts of electricity. But for end-users, the biggest concern is reliability. Our Sales Engineers will identify your unique air demands, walk through your facility to assess your system components and piping, and then offer a well-crafted plan that will maximize compressed air reliability and minimize operating costs.
Our passion for compressed air done right also focuses on energy efficiency. Compressed air is a fantastic source of power in modern manufacturing, production and processing, but it is highly inefficient. When a system is right-sized, monitored, and managed effectively, we can harness the power of compressed air while controlling the cost of producing it.
1.
The process begins with an assessment of your current system or a review of your proposed system. We check for the proper sizing of the compressor(s), dryer(s), filtration, moisture management, receiver tank(s), and the distribution piping that takes the air to each endpoint.
2.
We also consider the compressor room and plan a clean, well-lit, accessible and user-friendly environment for this utility that you produce yourself. Our compressor room plans consider clearance for maintenance and cleaning, ventilation, ambient temperature, and strategies for exhausting or capturing and utilizing excess heat.
3.
Next, we will schedule and coordinate installation with your production and maintenance management teams, plus any electrical, plumbing or mechanical contractors that might be involved. Formal plans are produced and the job is scheduled for installation and start-up.
4.
Our team comes with all the tools and resources needed for the install. We go through a detailed start-up and training procedure with your team. Then, after the system has operated for a few days, we come back and check that everything is performing as expected.
Our Compressed Air System Design and Installation Solutions
At Fluid-Aire, we are the experts in compressed air system design and installation. We start by asking a lot of questions. We take the time to understand your goals, your operations and your budget. Then, we design a compressed air system around your unique needs and constraints.
We design your system around four key questions: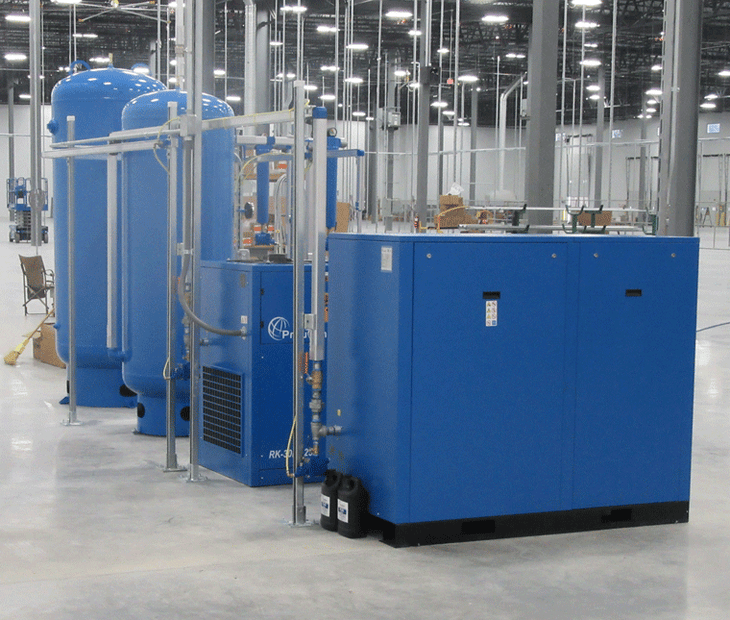 How much compressed air do you need?
Do you need to dry your air?
How clean does your air need to be?
How should you distribute your air?
Benefits of Most Efficient Air Compressor System Design
1. Reliability
When a compressed air system is properly designed, it will serve you well for many years. A properly designed system will keep your unexpected downtime to a minimum and ensure a reliable supply of clean, dry compressed air for all of your air requirements.
2. Energy Savings
Compressed air is the fourth utility—and the most expensive utility that a modern manufacturing, processing, production or service facility uses. It is just as critical to an operation as electricity, water, and natural gas. We design your system to be as energy-efficient as possible, so you can keep energy bills for your compressed air to a minimum.
3. Ease of Maintenance and Repair
Regular preventative maintenance cycles and repairs are faster to perform when the equipment placement has been well planned. The location of the compressor room and the clearances allowed for access to the compressed air equipment not only allows it to stay cooler, but also allows for convenient access.
4. Control Future Costs
We help you control future costs by planning for the long term and helping you maintain your system after installation. We help you control costs by 1) measuring and monitoring system performance to ensure maximum efficiency; 2) regularly detecting and fixing leaks in the system; 3) adhering to manufacturer warranties; and 4) leveraging energy incentives and rebates for equipment upgrades that save electricity.
Why Our Clients Think That We're the Best Air System Designers in Chicago
Experience. We've seen it all and have designed compressed air systems for hundreds of unique application challenges. Our Sales Engineers have deep experience and the technology to design exactly the right system for your operation.
Right-Sized Equipment. We make sure that your system is right-sized, from the compressors and dryers to the piping that gets the air to the point-of-use. Bigger is not always better.
Energy Incentive and Rebate Experts. Let us help determine the energy incentives that are available in your area. We work regularly with:
·  ComEd (Chicago and Northern Illinois)
·  Xcel Energy (Minnesota)
·  Focus on Energy (Wisconsin; partners with local utilities)
We can lead you through the process to greatly improve the energy efficiency of your compressed air system and even do the paperwork for you.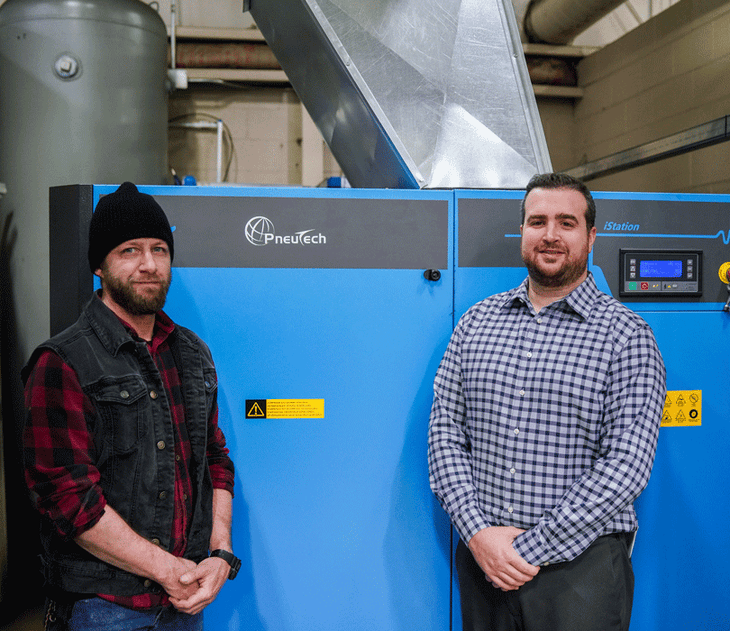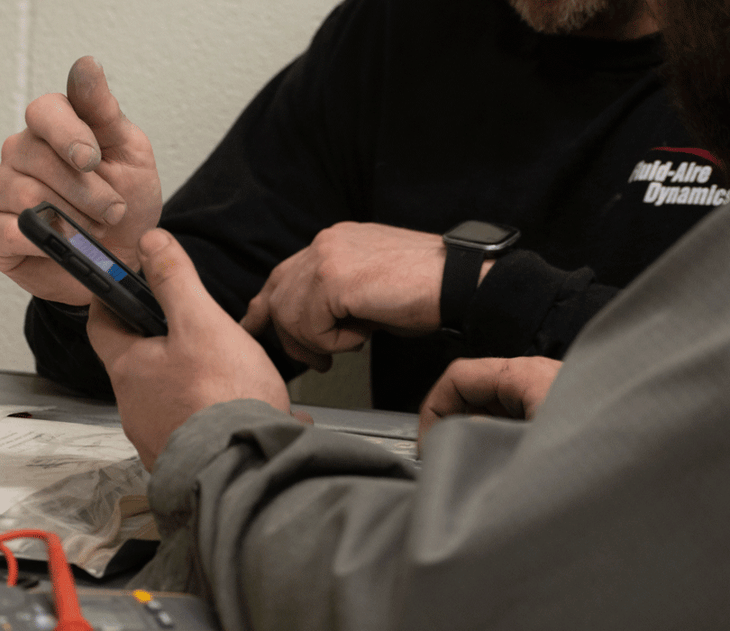 Ask Our Expert
Is your compressed air system serving you well? We can lead you through the design process to greatly improve the energy efficiency and make sure you always have clean, dry, reliable and efficient air. Contact us today and let's talk about your air!
Contact us
Clients Reviews
The variable speed drive air compressor helps us because we don't have any regulators on our equipment in the building. When a technician is using an impact that's rated for 90 PSI, I turn the compressor down to 90; when we're using the bead blaster, I walk up to the compressor and bump it up to 105. The bead blaster only puts our compressor under about a 30% load. It's so quiet—the bead blaster is 100x louder than the air compressor is! The VSD compressor saves me time and money.
Ron S. - Deutz Corporation
Elgin, Illinois
The salesman was able to answer EVERY question I asked. The delivery was prompt and the set up fulfilled my needs. Your service tech was excellent in his knowledge of the product, cleaned up after the service and gave us a few tips on how to care for the unit to prolong its life.
Ken P. - Pullman Sugar
Chicago, Illinois
I would recommend Fluid-Aire to anybody. Your guys stand up for the work you do and the equipment you put in our facilities, and you're always very easy to work with.
Felix M. - Plant Manager, Bolke-Miller Company
Waukegan, Illinois
Fluid-Aire isn't tied to any one compressor brand. They will give you the best overall solution for your operations. They aren't going to try to upsell you on something that you don't need. With a lot of companies, once you buy a compressor, you never see them again. I like that Fluid-Aire is local and family owned. I know if I ever have a problem, they are going to be here for me. Fluid-Aire Dynamics is receptive, proactive, and they are a family-owned business, like us. I appreciate the care and personal attention they give us.
Ryan W. - VP of Operations, Wiegel Tool Works
Elk Grove Village, Illinois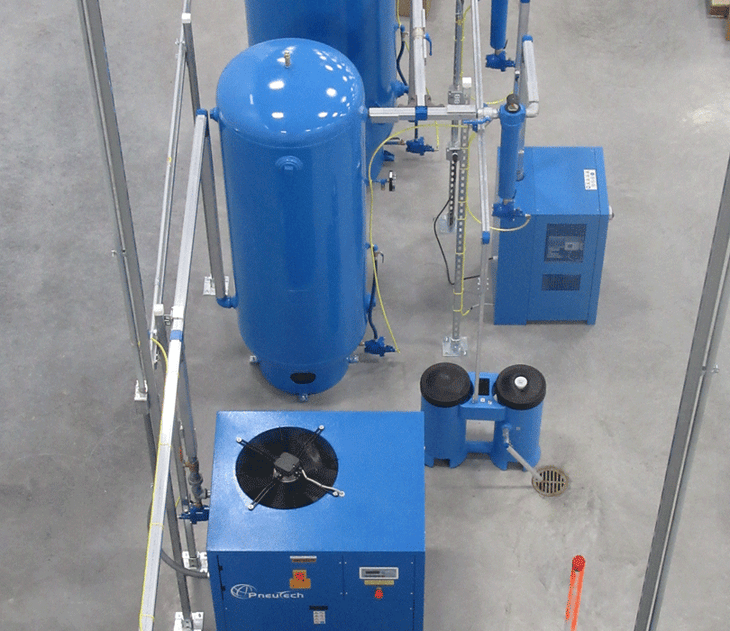 FAQ
How do you make a compressor room?
The placement and design of the compressor room are important to the overall efficiency and ease of use of your system.
The compressor room needs to have adequate ventilation and free space around the compressor to avoid overheating. It also needs to allow easy access to the compressor, air dryers and other equipment for maintenance and cleaning.
A centralized location will allow for shorter piping runs to endpoints, minimizing pressure drop and material costs.
Make sure you have enough room for all of the auxiliary equipment needed for your compressed air systems, including air dryers, heat exchangers, receiver tanks, oil/water separators, etc.
Have a plan for handling excess heat generated by the compressor. Heat can be exhausted from the compressor room or captured and reused for other applications in your facility.
Finally, consider the cleanliness and temperature of the ambient air. A temperature-controlled room with adequate filtration for intake air will reduce strain on your compressor and extend the life of your inline filters.
How long does it take to design air systems?
The design process will depend on the size and complexity of your system. In general, compressed air system design will take anywhere from a couple of days to a couple of weeks, depending on the size and complexity of the project. Our Sales Engineers use a proven, repeatable design process to ensure that everything goes as quickly and smoothly as possible. And our efficient, expert installation services will have you up and running in record time.
How much does the design and installation of air equipment cost?
Costs for compressed air system design and installation will depend on the size and complexity of the system. We work with you to right-size your equipment and keep costs to a minimum. Contact us to talk to one of our Sales Engineers about your requirements, and we will put a project estimate together for you.