Compressed Air System Design Services in San Antonio, TX
Fluid-Aire Dynamics is your reliable partner for professional compressed air system design in San Antonio, Chicago, Milwaukee, Minneapolis, Detroit, and Philadelphia. Our solutions are designed to be affordable and dependable, assuring a steady supply of air to meet your requirements. Our team brings expert design skills and comprehensive service, covering the sales and servicing of equipment recommended for your project.
How We Facilitate Air Compressor System Design in San Antonio
Contemporary compressed air systems are intricate structures that consume substantial electricity. For users, the most vital factor is reliability. Our Sales Engineers examine your unique air requirements, scrutinize your facility to evaluate your system components, and recommend a comprehensive plan to enhance industrial compressed air systems reliability while reducing operational expenses.
We prioritize energy efficiency in our system design and are committed to delivering excellent compressed air solutions to our customers. Compressed air is a valuable power source in current manufacturing, production, and processing contexts, but it can be highly inefficient. By ensuring the system is properly scaled and managed, we help you benefit from the power of compressed air while managing the costs of its production.
1.
We start with an appraisal of your existing system or an overview of your proposed system. We examine the appropriate sizing of compressors, dryers, filtration, moisture management, receiver tanks, and the distribution piping that transports air to each endpoint.
2.
We evaluate the compressor room and create a clean, well-illuminated, and easy-to-access environment for self-production of this utility. Our plans consider space for maintenance and cleaning, ventilation, ambient temperature, and methods for exhausting or utilizing excess heat.
3.
We will organize and synchronize installation with your production and maintenance management teams as well as any involved electrical, plumbing or mechanical contractors. Then we will produce the formal plans and schedule installation and start-up.
4.
Our team comes fully equipped for the installation. We conduct a detailed start-up and training process with your team. After the system has operated for a few days, we revisit to confirm everything is performing as anticipated.
Our Approach to Compressed Air System Design and Installation in San Antonio, Texas
At Fluid-Aire Dynamics, we excel at creating tailor-made compressed air system designs and installations for rotary screw compressors and other industrial air equipment. We prioritize understanding your goals, operations, and budget and then design a compressed air system that accommodates your specific needs and constraints.
We center our system design around four crucial questions: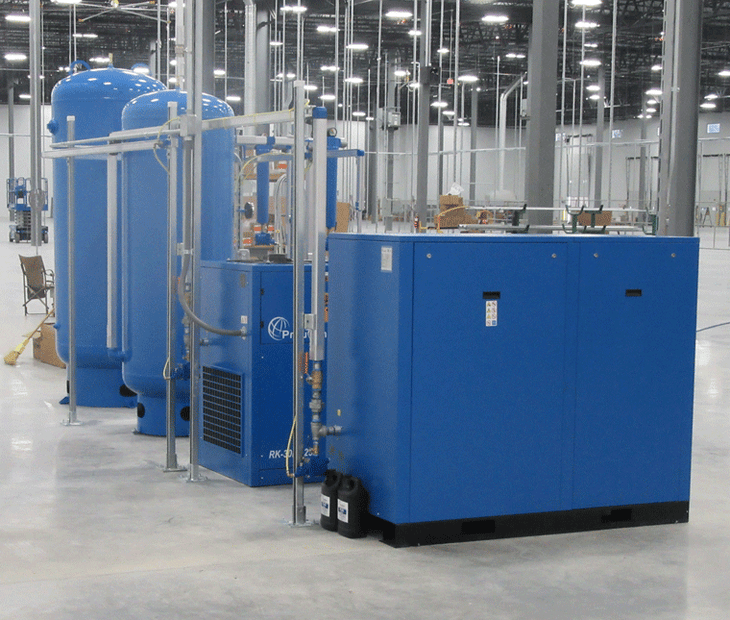 HOW MUCH COMPRESSED AIR DO YOU NEED?
Ensuring that your air compressor aligns perfectly with your needs is vital, as it avoids unnecessary costs for unutilized capacity and prevents your operations from being hindered by an underperforming compressor. Our team of service technicians will assist in selecting equipment with the correct specifications using historical data, baseline figures, or engineering computations based on your technical requirements. We assess factors like average and peak air demand (flow), required PSI for your machinery (pressure), operational cycles, and your facility's anticipated compressed air needs in the future. Here are a few critical questions we explore:
What are the minimum and maximum CFM requirements? (Flow)
What's the minimum required PSI? (Pressure)
What are the CFM requirements as specified by the equipment manufacturer?
What is the operational cycle and duration for each equipment piece?
How many operational shifts are there, and what's the air demand per shift?
What are the projected compressed air needs in the upcoming 1 to 3 years?
DO YOU REQUIRE AIR DRYING?
What level of dryness is required for your compressed air? Factoring in the dew point requirements and ISO ratings for your application is crucial when planning your compressed air system. Visible moisture in your air is unwanted as it leads to equipment damage and rusting over time. A proper air drying method involving wet tanks, inline filtration, refrigerated or desiccant drying, and point-of-use filtration can help eradicate any perceivable moisture. However, it's essential to pay special attention if ultra-dry air is required or if the application operates below 38°F. We can guide you to select an optimal air drying strategy based on your application's dew point needs and operating environment.
HOW PURE SHOULD YOUR AIR BE?
Pure air enhances system efficiency and is integral for many operations. The purity level depends on your application and how and where the air will be utilized. The purity standards for powering pneumatic tools and other general applications won't be as rigorous as for specific industries like food processing or medical. Compressed air can easily get polluted by particulate and oil carryover from the compressor's operation and contaminants in the intake air. Inline filtration helps remove these particulates and oil before the air reaches its endpoint. This filtration can be implemented before and after the dryer and at the point of use for certain filtration requirements. Your ISO rating will dictate the acceptable micron count.
HOW SHOULD YOU MANAGE AIR DISTRIBUTION?
The design of the air distribution system holds equal importance to the choice of the air compressor for ensuring an efficient compressed air system. An inadequately designed system can lead to excessive pressure drop, requiring higher PSI operation of your air compressor to make up for the pressure loss. In contrast, a well-constructed distribution system delivers air efficiently to all endpoints with minimal pressure loss. We consider numerous factors while designing your distribution system.
Pipe Size: Under-sizing can lead to excess pressure drop, while oversizing doesn't affect performance but is wasteful. We assist in sizing your compressed air pipes optimally for your application.
Layout: A loop-style distribution system is typically the most efficient choice. We aim to minimize excessive elbows and tees, a primary cause of pressure drop. A loop system allows airflow in any direction and increases your system's capacity by 1.5 times compared to a straight-line setup.
Material: The prime choice for compressed air piping material is an aluminum piping system. It's cost-effective compared to copper piping, resistant to rust and corrosion unlike black iron pipe, and quicker to install.
Storage: Planning an efficient compressed air system should include consideration for air receivers and storage tanks. Wet tanks are used pre-dryer to extract the majority of moisture from high-humidity air. Dry tanks function as storage for air used for intermittent high-demand events.
Benefits of Efficient Air Compressor System Design in San Antonio
1. Reliability
An appropriately designed compressed air system will serve reliably for years, minimizing unexpected downtime and ensuring a steady supply of clean, dry compressed air.
2. Energy Savings
Compressed air is a critical and costly utility for modern facilities. We design your system for optimal energy efficiency, reducing your energy bills.
3. Ease of Maintenance and Repair
Well-planned equipment placement makes regular air compressor service, preventive maintenance and emergency repair faster and easier.
4. Control Future Costs
We aid you in controlling future expenses by planning for the long term and maintaining your system post-installation.
Why San Antonio Clients Consider Us Top-tier Air System Designers
Experience: Our Sales Engineers have extensive knowledge and experience in handling a variety of application challenges to provide the best possible service for your customers.
Right-Sized Equipment: We ensure your system is appropriately scaled for your business to minimize costs and ensure a consistent supply of clean, dry air.
Energy Incentive and Rebate Experts: We regularly work with regional energy providers and can guide you through the process to get incentives for upgrades that significantly enhance the energy efficiency of your compressed air system. Including:
·  ComEd (Chicago and Northern Illinois)
·  Xcel Energy (Minnesota)
·  Focus on Energy (Wisconsin; partners with local utilities)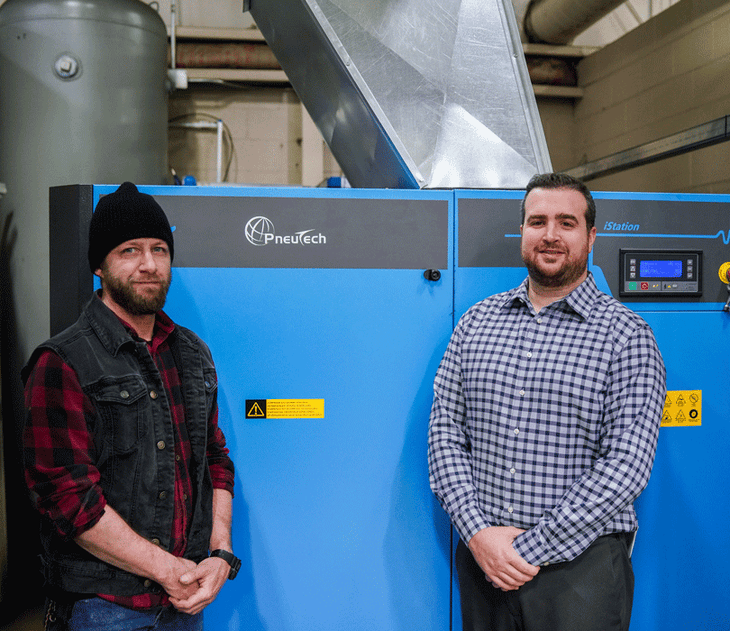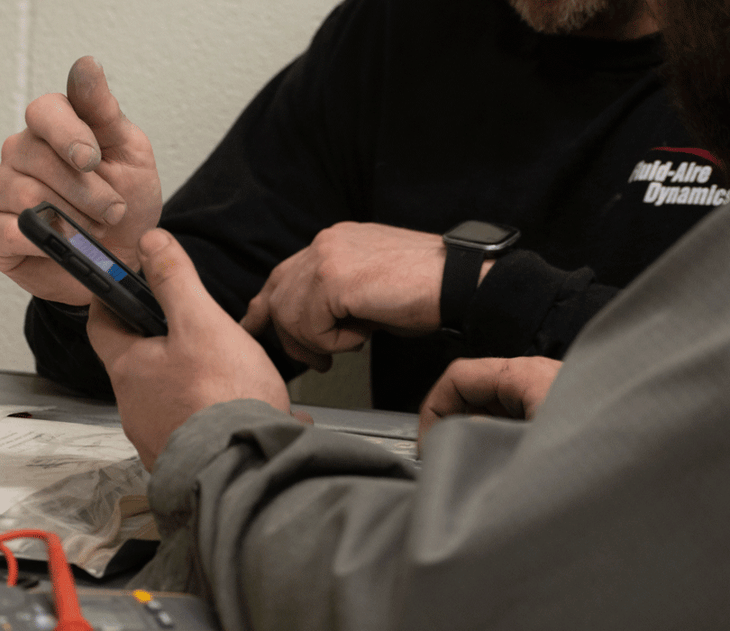 Ask Our Expert
Are you interested in improving the energy efficiency of your compressed air system and always having reliable and efficient industrial air compressors? Reach out to us today, and let's discuss your needs!
Contact us
Client Testimonials
The variable speed drive air compressor helps us because we don't have any regulators on our equipment in the building. When a technician is using an impact that's rated for 90 PSI, I turn the compressor down to 90; when we're using the bead blaster, I walk up to the compressor and bump it up to 105. The bead blaster only puts our compressor under about a 30% load. It's so quiet—the bead blaster is 100x louder than the air compressor is! The VSD compressor saves me time and money.
Ron S. - Deutz Corporation
Elgin, Illinois
The salesman was able to answer EVERY question I asked. The delivery was prompt and the set up fulfilled my needs. Your service tech was excellent in his knowledge of the product, cleaned up after the service and gave us a few tips on how to care for the unit to prolong its life.
Ken P. - Pullman Sugar
Chicago, Illinois
I would recommend Fluid-Aire to anybody. Your guys stand up for the work you do and the equipment you put in our facilities, and you're always very easy to work with.
Felix M. - Plant Manager, Bolke-Miller Company
Waukegan, Illinois
Fluid-Aire isn't tied to any one compressor brand. They will give you the best overall solution for your operations. They aren't going to try to upsell you on something that you don't need. With a lot of companies, once you buy a compressor, you never see them again. I like that Fluid-Aire is local and family owned. I know if I ever have a problem, they are going to be here for me. Fluid-Aire Dynamics is receptive, proactive, and they are a family-owned business, like us. I appreciate the care and personal attention they give us.
Ryan W. - VP of Operations, Wiegel Tool Works
Elk Grove Village, Illinois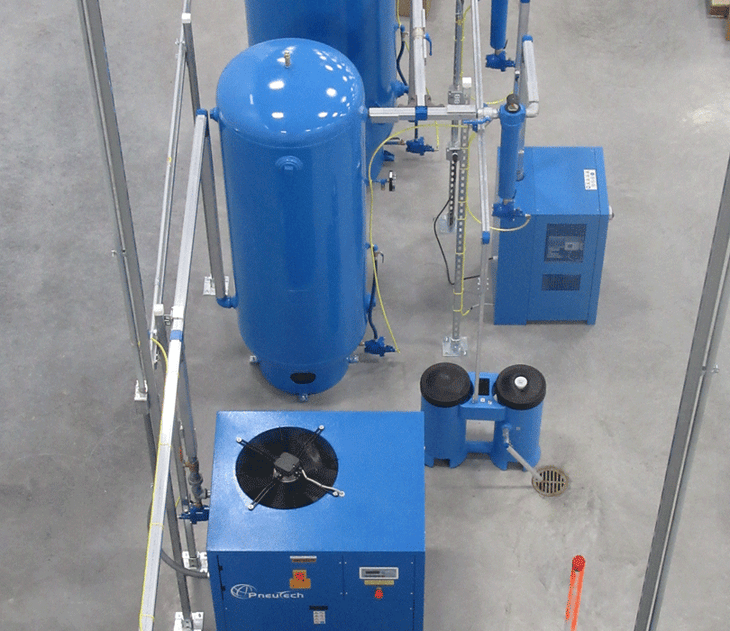 FAQ
What are the essentials of a compressor room design?
The location and design of your compressor room play a pivotal role in the overall efficiency and user-friendliness of your system. Ensure there's sufficient ventilation and clearance around the compressor to dissipate excess heat. Maintenance and cleaning should be hassle-free, with easy access to the compressor, air dryers, and other essential equipment. Opting for a centralized location can reduce piping lengths, leading to lower pressure drops and material expenses. Ensure ample space for all complementary equipment such as air dryers, heat exchangers, receiver tanks, and oil/water separators. Address the heat produced by the compressor either by venting it out or repurposing it for other uses within your establishment. Lastly, maintaining a temperature-regulated room with effective intake air filtration can reduce stress on your compressor and prolong the durability of your inline filters.
How long is the air system design process?
The duration required for designing an air system varies based on its size and intricacy. Typically, creating a compressed air system design can range from a few days to several weeks, contingent upon the project's scope. Our Sales Engineers adopt a consistent, established design methodology, ensuring a speedy and seamless process. Plus, our proficient installation services guarantee a swift setup.
What is the cost of designing and installing air equipment?
The charges associated with designing and installing a compressed air system hinge on the system's scope and intricacy. We collaborate with you to optimize your equipment's size and curtail expenses. Reach out to us to discuss your needs with one of our Sales Engineers, and we'll provide a project cost estimate for you.