24/7 Emergency Air Compressor Service From A Local Company
Fluid-Aire Dynamics offers local air compressor repair and support services within 90 miles of our four service facilities in Chicago, Milwaukee, Minneapolis, Detroit, Philadelphia and San Antonio. Our qualified service technicians are on-call 24/7 and ready to meet your emergency air compressor repair needs at any time of the day or night.
24-Hour Emergency Service for Your Air Compressor Needs
Our service manager and service technicians are dedicated to going the extra mile to meet the needs of our customers in an air compressor emergency. No matter the issue, we will resolve it, or find someone who can help you with your issue. 24/7 phone support, as well as on-site support, gives you the assurance and expertise that you need to stay running. 
We can address a wide range of emergency and standard air compressor repair needs, including:
Air compressor failure
Air compressor won't start/air dryer won't start
Air compressor is overheating
Air compressor motor overload
Compressor blows fuses/breakers
Compressed air system is making abnormal sounds
Air compressor is leaking oil
Air compressor won't maintain pressure
Pressure drop in the compressed air system
Abnormal sump pressure
High oil carryover in compressed air
Water in the compressed air lines
Air leaks in compressed air system
Broken compressor fan
Broken intake filter
Broken air compressor manifold
Compressor on/off switch not working
How We Work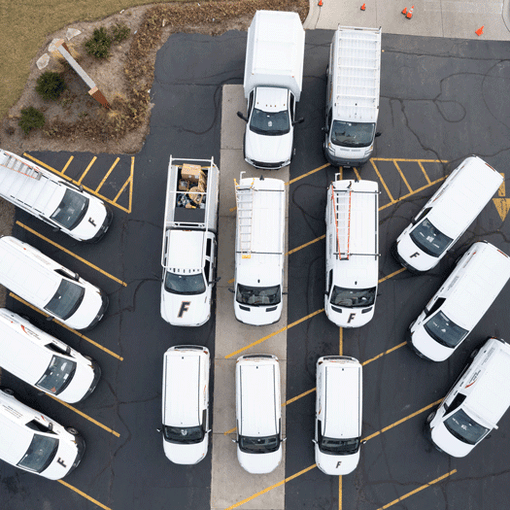 Our team is on call 24/7/365 for emergency compressor repairs. We provide a four-hour service guarantee for our customers near Chicago, Milwaukee, Minneapolis/St. Paul, Detroit, Philadelphia and San Antonio.
Our professional dispatch team provides prompt, 24/7/365 response for emergency repairs.
Our on-site technicians will get a detailed description of the issue, perform a thorough visual inspection, and (if needed) run diagnostic tests.
Whenever possible, we make the repair immediately. We send our trucks equipped with commonly needed parts and supplies so we can fix many emergency repair issues on the spot.
When the repair is complete, we make sure everything is running as expected and let you know how to prevent similar problems in the future.
Brands We Serve
With over 30 factory-trained service technicians, we have deep experience in maintaining and repairing most any brand of rotary screw or hydrovane-style air compressor including: Atlas Copco, Chicago Pneumatic, Gardner-Denver, Ingersoll-Rand, Kaeser, PneuTech, Quincy, Sullair, Sullivan Palatek, and many, many others. 
We are not a good choice for the repair or parts for consumer-level compressors. If you are in need of services like Sears air compressor repair or you are having issues with other consumer-level compressors that are available from big-box stores, you need to contact that store or the original manufacturer.
Why Choose Us for Your Emergency Compressor Repair
With service facilities in Chicago, Milwaukee, Minneapolis, Detroit, Philadelphia and San Antonio. Fluid-Aire Dynamics guarantees that a certified technician will be on-site for an emergency situation within 4 hours: 24 hours a day, 7 days per week, 365 days per year*. This means that you can get your production up and running in the shortest time possible. Count on us for:
4-hour emergency compressor repair for current customers within our service zones*
First-rate customer service delivered by a family-owned company that excels in our field
Factory-trained, highly qualified service technicians who know compressed air inside and out
Competitive pricing without the "corporate bloat" of the big shops
Extensive expertise in all aspects of compressed air system repair, including air compressors, dryers, distribution systems, inline filtration, air receiver tanks, and air system accessories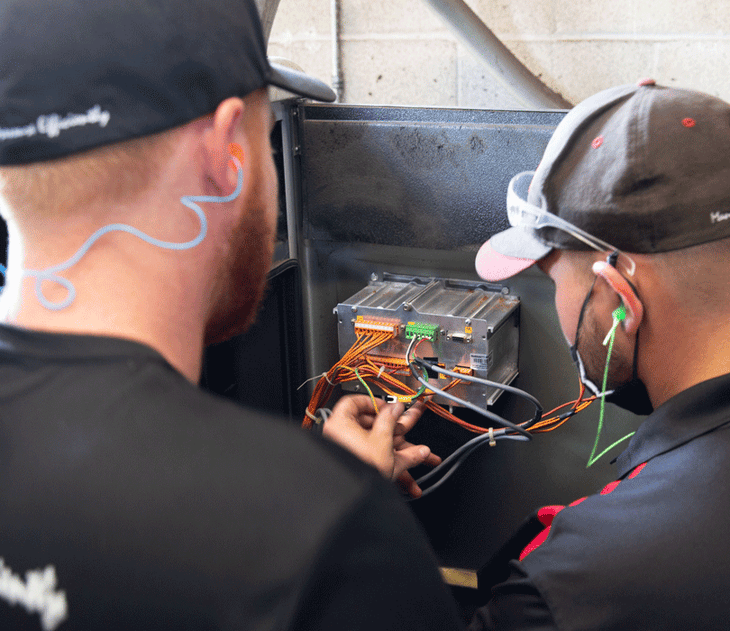 *Fluid-Aire's 4-Hour Emergency Service Guarantee
All emergency service calls include a $250 elite service fee and have a minimum billing of 2 hours. Emergency service hours and rates are as follows:
Regular Business Hours: Monday through Friday, 7AM to 4PM. Any request for immediate service is considered an emergency and is billed at our regular rates.
After Hours: Considered anytime on Monday through Friday, 4PM to 7AM and all day Saturday. Any request for a tech to be on-site during these hours is billed at time and a half of our regular rates.
Sundays and Holidays: Any request for a tech to be on-site at any point on a Sunday is billed at two times our regular rates.
If we do not have a certified technician on-site at your facility within four hours of agreeing to do so, the $250 elite service fee is waived, but the parts and labor are still invoiced at the standard rates based on the time and day the services were required. This guarantee is valid only within a 50-mile radius of our Schaumburg, Illinois, Franklin, Wisconsin, Burnsville, Minnesota and Wixom, Michigan locations.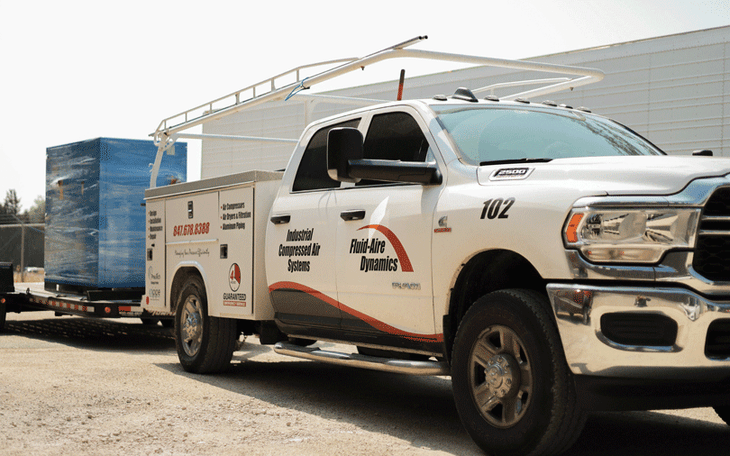 If You are in Need of Emergency Air Compressor Repair Service Near You
Call our local numbers any time, 24/7/365, for immediate support.
Contact us
Clients Reviews
The technician arrived in no time and resolved the problem. Very knowledgable and polite.
Dimo Penev
Chicago
Service on our compressor was done professionally clean and on time. Great services Excellent
Bogdan Hadik
Chicago
Tech was very professional and quickly went about the job at hand. Took care of the issue the first time and we're up and running!
Dave Ashley
Minneapolis
I have always had technicians that show a great deal of professionalism, promptness, on time, great communication and detailed explanations to all of my questions.
Tom Hoaglund
Chicago
The technicians were on time, and they know what they were doing, very professional
Alfredo Cruz
Chicago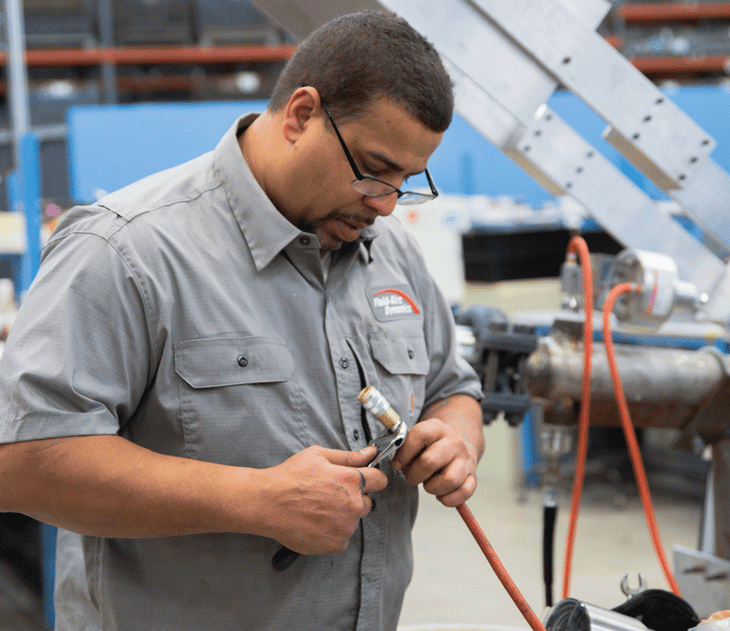 FAQ
How often should compressors be serviced?
Air compressors require regular preventative maintenance to remain in optimal operating condition. Your air compressor should undergo regular compressor maintenance and inspection on the schedule recommended for your model and usage patterns; a full PM service should be performed at least annually and more often if your usage dictates it. Call for a repair service or inspection if your air compressor is behaving abnormally, making unusual sounds, unable to keep up with your air demand, or exhibiting problems like excessive oil carryover or moisture in the compressed air supply. Prompt attention to developing problems can prevent them from turning into emergency repairs. An emergency repair is warranted if your air compressor will not turn on, is exhibiting acute issues that prevent operation, or presents a safety concern (e.g., a voltage problem). Fluid-Aire Dynamics is here to meet all your air compressor service needs, including preventative maintenance, standard compressor repair services, and emergency repairs for all compressed air system components.
How much does it cost to emergency repair an air compressor?
Service costs for industrial air compressors will depend on the size and complexity of your system, the complexity of and time required for the repair, and the cost of any replacement parts required. You may also pay a premium for emergency service. See our 4-hour Emergency Service Guarantee* for details on our emergency service pricing for air compressor repair. Our team will always give you an estimate up front, before completing repairs, so there are no surprises. To keep repair and service costs under control, consider a maintenance agreement. The Fluid-Aire Dynamics Elite Service Subscription Plan provides 'bumper to bumper' coverage that includes both standard maintenance and repairs for a predictable monthly rate.
Do you have air compressors for rent?
Yes, we do! Fluid-Aire Dynamics provides emergency air compressor rental services within 90 miles of our four service centers located in Chicago, Milwaukee, Minneapolis and San Antonio. We rent air compressors, dryers and other supporting compressed air equipment on a weekly or monthly basis with flexible terms. Our qualified installers will take care of everything, including a complete equipment transfer, to minimize downtime. We can get you up and running quickly with air compressors from 5HP to 75HP and beyond.