Compressed Air Installation in San Antonio, TX
Fluid-Aire Dynamics is committed to providing comprehensive compressed air system design and air line installation services in San Antonio, Texas. Our end-to-end service model ensures a smooth and worry-free installation, delivering optimal compressed air system performance. Reach out to us for a no-obligation quote.
Fluid-Aire Dynamics: Your Go-To Air Compressor Installer in San Antonio
Count on Fluid-Aire Dynamics to install and maintain your compressed air system in the San Antonio metro area. We deal with all major makes and models of rotary screw, rotary vane and reciprocating air compressors, along with dryers, inline filtration, aluminum piping systems, and more. We also offer extended support through compressed air system design, energy incentive program management, system optimization, and ongoing maintenance.
We oversee the entire installation process, ensuring you get reliable pressure, energy efficiency, and clean, dry compressed air for years. Our highly skilled team promises efficiency and maximum performance, whether you're installing a new system, expanding an existing one, or relocating your air compressor.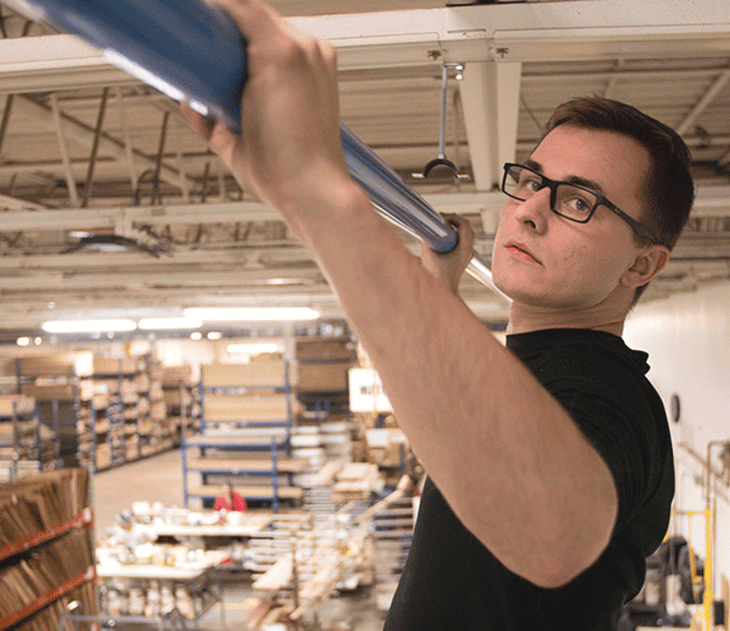 How We Can Assist
Our installation professionals come with years of expertise in the compressed air industry. They excel in providing top-notch services, from compressor placement and piping to electrical systems and ventilation. Regardless of the complexity of your project, Fluid-Aire Dynamics ensures your compressed air equipment operates at peak efficiency. We work with all the major brands: Ingersoll Rand, Gardner Denver, Quincy, PneuTech, Atlas Copco, Chicago Pneumatic, Sullair, Kaeser, and many, many others.
AIR EQUIPMENT INSTALLATIONS
Be it merely replacing your current equipment or establishing a brand-new compressed air line system, Fluid-Aire Dynamics is at your service! We'll handle every step, from delivering and setting up new equipment to optimizing its operation. Our tasks encompass compressor positioning, piping, electrical systems, drain systems, and ventilation. Leveraging years of expertise, we ensure that your compressed air equipment is professionally installed and functions with maximum efficiency.
PLANT PIPING INSTALLATIONS
Your compressed air piping system greatly impacts your system's performance and energy efficiency. Our technicians know how to aptly size and configure pipes for compressed air delivery to achieve optimal results. Whether you want a modern new aluminum piping system or wish to extend the life of an existing black iron pipe system, we guarantee reliable delivery of air to every point-of-use drop.
Our Installation Procedure
We adopt scientific principles and a consistent installation process to facilitate smooth air compressor installation from inception to completion and eliminate safety hazard concerns.
1.
Data collection
We begin by understanding your compressed air demand, pressure requirements, facility constraints, and performance expectations.
2.
System design
We use the collected data to optimize your equipment's size and layout, encompassing compressor(s), dryers, inline filtration, and the compressed air piping system.
3.
Planning
We assist in strategizing timelines, budgets, and installation activities, including equipment placement, ventilation, electrical prerequisites, and more.
4.
Installation
Our team comes equipped with proper lifting, rigging, electrical, and piping connections so we can get your system operational quickly while ensuring safety in compliance with OSHA regulations.
5.
Commissioning
We ensure everything meets your performance expectations post-installation.
6.
Training
We offer training to your maintenance team for effective equipment upkeep.
Why Clients Consider Us the Best Air Compressor Installers in San Antonio
At Fluid-Aire Dynamics, we prioritize quality and strive to understand your facility and processes to recommend systems and pipe fittings that reduce costs, maximize efficiency, and ensure reliability. We work to minimize potential disruptions and guarantee job completion right the first time. Furthermore, our performance guarantee backs our work. If something isn't right, we'll rectify it. Listen to what our customers have to say.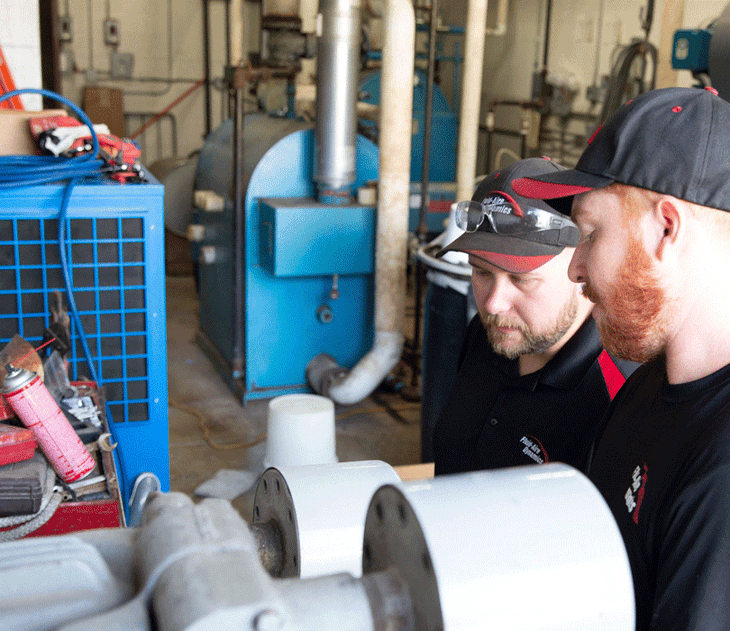 Client Reviews
The variable speed drive air compressor helps us because we don't have any regulators on our equipment in the building. When a technician is using an impact that's rated for 90 PSI, I turn the compressor down to 90; when we're using the bead blaster, I walk up to the compressor and bump it up to 105. The bead blaster only puts our compressor under about a 30% load. It's so quiet—the bead blaster is 100x louder than the air compressor is! The VSD compressor saves me time and money.
Ron S. - Deutz Corporation
Elgin, Illinois
The salesman was able to answer EVERY question I asked. The delivery was prompt and the set up fulfilled my needs. Your service tech was excellent in his knowledge of the product, cleaned up after the service and gave us a few tips on how to care for the unit to prolong its life.
Ken P. - Pullman Sugar
Chicago, Illinois
I would recommend Fluid-Aire to anybody. Your guys stand up for the work you do and the equipment you put in our facilities, and you're always very easy to work with.
Felix M. - Plant Manager, Bolke-Miller Company
Waukegan, Illinois
Fluid-Aire isn't tied to any one compressor brand. They will give you the best overall solution for your operations. They aren't going to try to upsell you on something that you don't need. With a lot of companies, once you buy a compressor, you never see them again. I like that Fluid-Aire is local and family owned. I know if I ever have a problem, they are going to be here for me. Fluid-Aire Dynamics is receptive, proactive, and they are a family-owned business, like us. I appreciate the care and personal attention they give us.
Ryan W. - VP of Operations, Wiegel Tool Works
Elk Grove Village, Illinois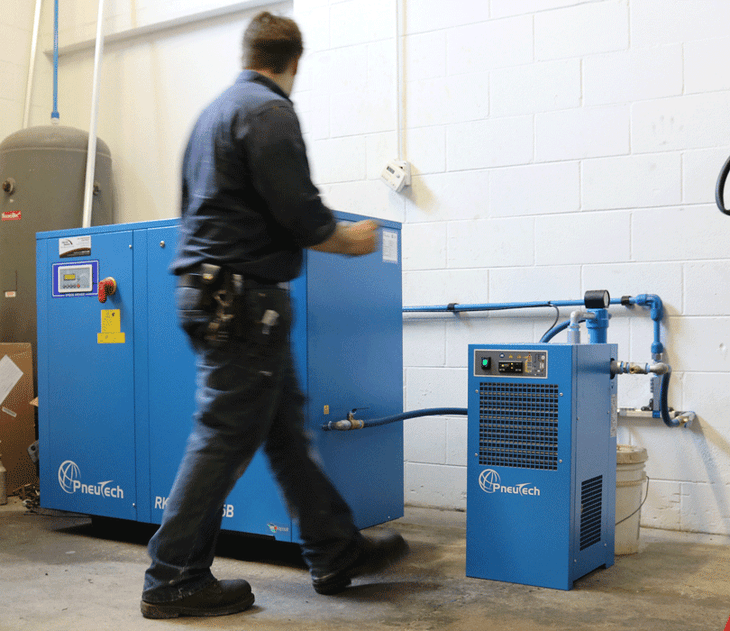 FAQ
What is the ideal size for an air compressor in a mechanic shop?
The sizing of an air compressor is dependent on the number of air-using tools, peak air demand, pressure (PSI) requirements of pneumatic tools, back pressure, and overall system efficiency. For most mechanic and auto repair shops, an air compressor between 5HP and 30HP is sufficient. We can assist you in optimizing your air compressor's size for maximum performance, efficiency, and cost savings.
What are the costs involved in installing a new compressor?
The costs associated with the installation of a compressed air system vary based on the compressor's size, installation complexity, and the extent of work to be done, including length of the distribution line, fittings required, etc. Your quote includes all essentials, including travel time, technician time, parts and supplies, avoiding any unforeseen expenses.
How much time does it take to install an air compressor?
Typically, the installation and commissioning of a new air compressor take about 2-3 hours. However, factors such as removal of old equipment, location, mechanical hook-up availability, and rigging path may extend the duration.